Citations are defined as "mentions" of your business name and address on other websites, even when the reference is text only – in other words, no actual link back to your website. A good example of a citation would be an online directory where your business is listed, without a link. Another example might be a local chamber of commerce, or a local business association where your business information is listed, with or without a link to your website . The term "web reference" is a synonym for "citation".
Citations are an important aspect of the search engine ranking algorithms. Other variables being the same, companies and organizations with a higher number of citations will very likely achieve greater search engine rankings than businesses with fewer citations.
Citations from recognized and authoritative directories such as Superpages.com assist the search engines in determining the validity and authenticity of your business listing, contact information and business category. The more citation references that the search engines can discover on other trusted websites about your business, the greater the degree of certainty with which the search engines can determine that "your business is who you say it is".
With many of the trades like plumbing, handyman, electrical, etc., citations are especially significant when the service provider does't actually have their own website. When a business doesn't have a website, the search engines don't have much information to work with. In this situation, the search engines depend much more heavily on other sources of information they can uncover! Of course, in general, any business with a website has an advantage for assisting their local search ranking over a business without a website.
Citations also confirm that a business is recognized within a community. It's fairly difficult for a business to fake membership in a chamber of commerce or a city or county business directory. Write-ups in a local online newspaper or trusted blog will also be helpful and confirming references. Citations, as well as back links, from trusted and popular local websites and blogs can measurably improve local search engine rankings.
So What Does a Citation Look Like?
Currently, your Google Local Business Listing provides a reasonable list of citations that can be found online for your business (if they exist), although Google doesn't necessarily show every citation it might be aware of.
Here's a local search example using the search phrase "electrical contractor simi valley".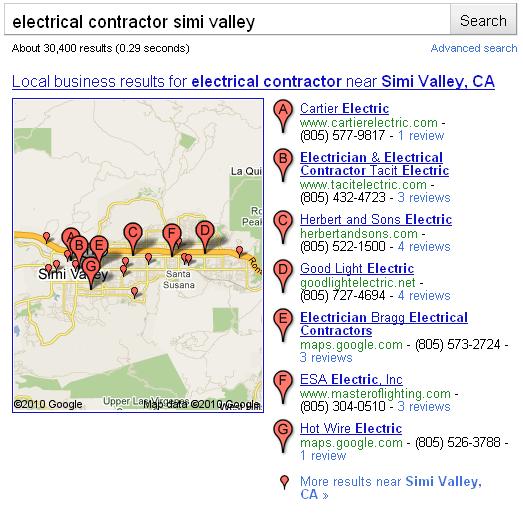 We'll click on the first business in the "Local Business" seven box, "Cartier Electric" and have a closer look (click on the "1 review" link for the Google local business listing web  page for Cartier Electric).
If you scroll down the local business listing page the Google displays, as shown below, see the "More about this place" section. Each of the listings, including the one from Cartier Electrical's own website) is a citation.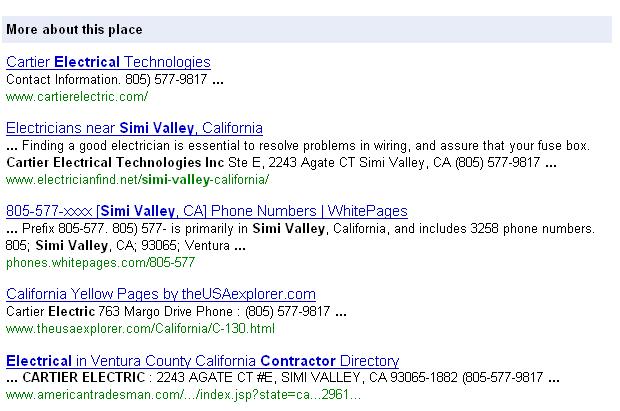 Bottom line, if you're struggling achieving a better "local business listing" rank with Google, you may want to get busy establishing more citations that will help boost your local search credentials. If you'd like some help establishing a better local search footprint for your small business, contact NewCorridor. We should talk!