Video marketing is one of the most powerful methods that small business can employ to drive more traffic and generate more leads. The demand and interest by consumers for online video can produce a staggering number of views. And when the social nature of online video results in users sharing your video with their friends and contacts, the viral nature of a popular video can spread across the Internet like gangbusters.
The viral result of a successful video marketing campaign for a small business can be the catalyst behind a flood of targeted traffic, and a rush of fresh leads that results in new customers. This is one of the key reasons that video marketing plays such a critical component in our Main Street Marketing Power strategy that we deliver for our clients.
One of the best ways to improve your video marketing is to observe and learn from other businesses. I always keep an eye out for effective video campaigns. If I find an interesting video going viral, then I dig a bit beneath the covers to see if there's a small business marketing strategy behind the video that I can learn from.
The fact of the matter, online marketers are producing great video in such numbers today, you can find good examples of video going viral each and every day.
For example, this week, the "Simon's Cat in the Box" video shown below sailed past the 2 millionth view on YouTube in just 2 short weeks. If you're not familiar with the Simon's Cat comic strip, you'll enjoy learning more about this business.
Simon Toliver, the creative talent behind "Simon's Cat" produces a clever animated comic strip about his curious and mischievous cat that has captured the imagination of millions of people all over the globe. He's based in the UK and in a few short years, he's grown and developed what looks to be an impressive business.
Enjoy the latest Simon's Cat animated video …
If you want to have a look at a terrific case study on how to tie all the marketing elements together end-to-end, study an effective example like "Simon's Cat". This business promotes a delightful comic strip product with a well conceived, smoothly integrated marketing strategy that includes:
A distinctive and consistent brand.
An attractive and easy to use website at http://www.simonscat.com (simple and clean with a brand personality that jumps out at you).
An online store with appealing, thematically related Simon's Cat products including calendars, greeting cards, Simon's Cat books (collections of the comic strip), coffee mugs, etc.
Video Marketing through YouTube. Notice how the animated cartoons comprise the product as well as the give-away content for the video campaigns. The viral nature of these animated cartoon videos drive the traffic and customers to the actual revenue producing products including the "Simon's Cat" books and related merchandising items mentioned in the previous bullet.
Social Marketing campaigns that tie in Twitter and Facebook with the YouTube channel (social marketing on YouTube as well).
The following statistics straight off of YouTube give you more insight into the powerful momentum behind the recently released video. This is the latest in a series of eight videos produced over the last two years.
Keep in mind that many of the viewers that consume the Simon's Cat videos today are already fans eagerly waiting and ready to pounce (sorry, the bad pun is not meant to make you groan) on the next animated cartoon installment. But the viral phenomenon is still responsible for the strong momentum. In fact, this becomes an ideal combination … a strong viral activity as well as an existing broad base of familiar consumers/customers.
As the following numbers demonstrate, the video reached over 1 million views in a matter of days. With a steady, climbing trend upward. Previous videos in the portfolio have reached upper limits of 16 million views climbing steadily over a period of two years or so. We can expect this latest video to perform in a similar manner over time.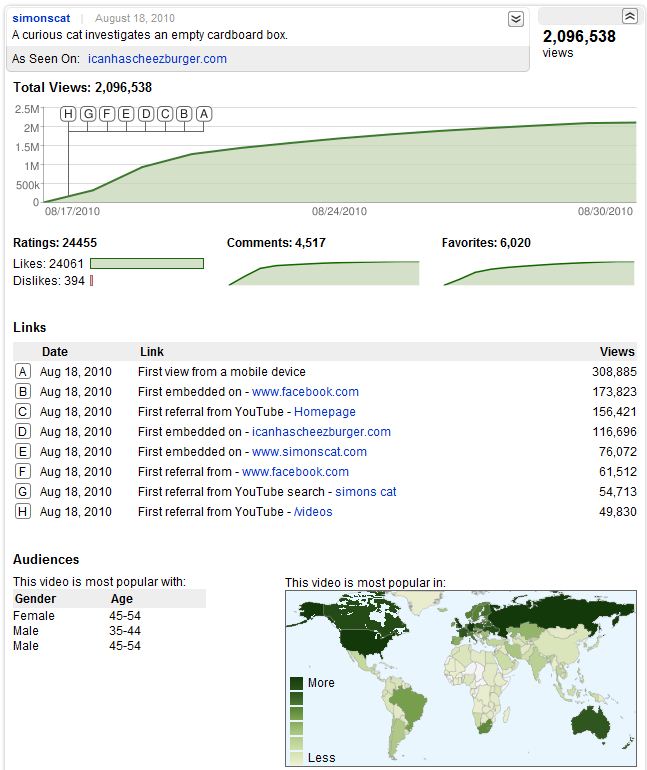 You can also gain some insight from the YouTube analytics data about referral traffic and views that include the Simon's Cat website, Facebook, Mobile devices, YouTube search, etc. And the demographics and geo-location data is always insightful.
If you'd like to learn a little more about the man behind the business and how the cartoon and videos are produced, enjoy the following interview with Simon Tofield.
In spite of the clear and obvious creative talent, it would appear that Simon Toliver is also a down to earth, rather like-able chap as well. It's always nice to see entrepreneurs that remain appreciative and grateful for their successful achievements.
The "Simon's Cat" business demonstrates many of the effective marketing techniques that can work so well today for small business. Study this example and see if you can leverage some of the ideas in your marketing strategy for your small or local business!