Page one domination on Google is not a fluke or a parlor tick. With our Main Street Marketing Power strategy for local business, we're able to achieve these kind of results for our local business clients by design.
And as far as SEO technique, our Main Street Marketing Power strategy is completely white-hat, ethical, and on the up and up.
We're not saying that we can absolutely guarantee page one domination results like this for every business in every market in every case. No one can make that claim. There are too many variables and factors out of our control to be able to guarantee 100% results. And don't believe anyone that suggests they can!
But with our hyper-tuned Main Street Marketing Power formula, we can definitely put the edge in your favor!
The following example is a snapshot of page one results on Google for the search term "moorpark video marketing". This returns a page one SERP with no less than 12 listings all pointing to our NewCorridor business (yours truly). Starting with a Google Places one-box listing, followed by a series of listing references all the way down the page.
In fact, there is only one organic listing position that we didn't grab (at least not yet), between #7 and #8 (my apologies, I numbered the results incorrectly, #8 through #12 should be #9 through #13, but you get the idea).
The only other remaining listings on the page are the paid search, but why would we want to pay for clicks when we have the organic free listings almost completely saturated?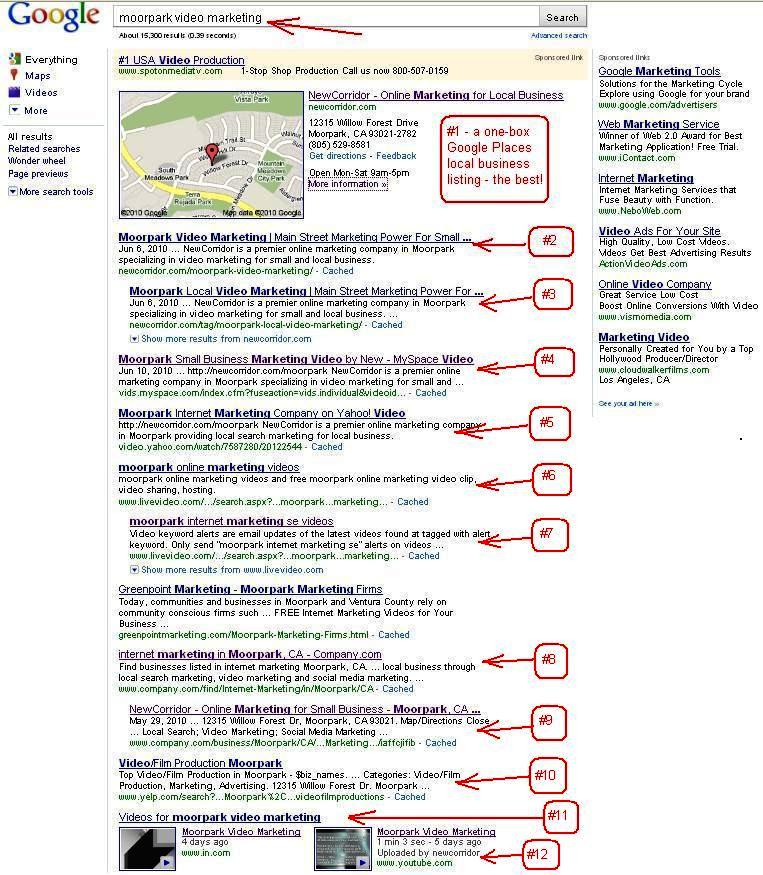 And this didn't take us all that long to accomplish. We began this marketing campaign about 2 weeks ago, on May 25th, 2010. The date of this snap-shot is the same as this post, June 11, 2010. This demonstration of page one saturation for local search is the result of about a 2 week marketing effort.
With our Main Street Marketing Power formula, we've fine tuned a potent combination of SEO, strategic keyword research, local search marketing, video marketing, social media marketing and podcasting to produce stunning results similar to what you see here on a consistent basis.
Let me ask you a question. What would page one domination on Google mean for your local business?
If you'd like to find out how to harness this local online marketing dynamo for your business, give us a holler. In fact, head over to view this video, and sign up for a FREE 1/2 local marketing consultation on us.