Mobile marketing is clearly a major online marketing trend underway at full speed. This is especially so for small and local business.
More and more consumers rely on their mobile phones and mobile smart devices to stay connected online everywhere they go. The shift from being tethered to the home or office desktop PC to the mobile phone or mobile smart device is dramatically changing the way many of your prospects and customers will discover and engage with your local business online.
It seems like everywhere you turn today, whether you're in a restaurant, walking down the sidewalk, waiting in line … people are glued to their mobile phones, either surfing the net, friending someone on Facebook, or text messaging away.
More often than you realize, people are using their mobile devices to search for a local brick and mortar business.
But there's a problem …
Have you ever searched for info on your phone, found a website, and had to struggle with a website that simply wasn't designed to display on a mobile device? Most websites are designed today for more display real estate on full-sized desktop monitors and for faster Internet connections with higher bandwidth pipes.
On a mobile device, these websites are painfully slow to download pages bogged down with bandwidth-sucking graphics and images. And they simply don't rendor or navigate properly on the limited display sizes found on mobile phones and smart phone devices.
Pretty irritating, don't you think?
The answer is to enable your site for mobile devices.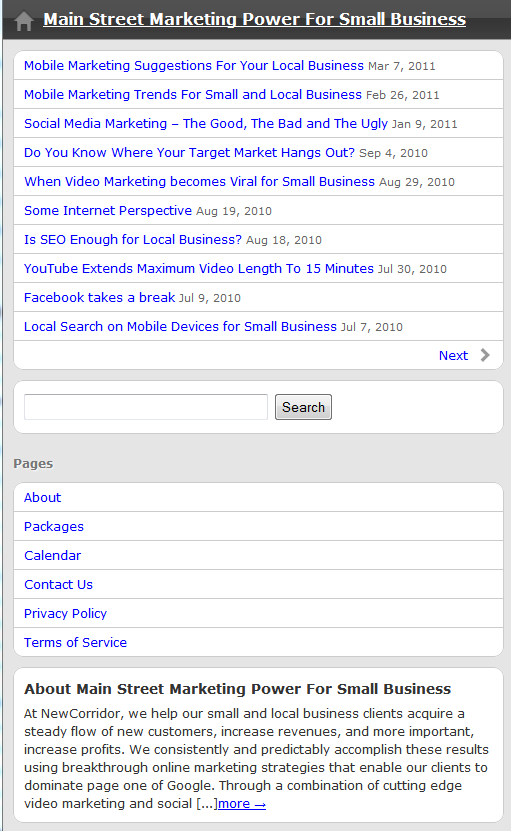 But don't panic, this doesn't necessarily mean you have to completely remake your site. After all, you don't want to abandon your existing website that may be doing just fine displaying on full-sized desktop computers.
Wouldn't it be great if your website would automatically display in its full glory on a full-sized desktop monitor or display? But when you access the website from a mobile device, the website is automatically formatted and optimized to display on the smaller portable mobile phones and smart devices.
Well, at NewCorridor, all of our hosted websites for our customers are designed to do just that. See the example to the left. That's a snapshot of the NewCorridor.com website you're viewing right now, demonstrating how it will look when you access the site from a mobile device.
In fact, if you're viewing from a desktop PC, try accessing our site from your mobile phone or smart mobile device. Simply navigate in your smart phone's browser to newcorridor.com and have a look.
As you can see, on a mobile device the display format is much simpler. We optimize out the sidebars, complicated menu navigation, expensive bandwidth-intensive graphics, and render the site in the simplest, easy-to-navigate format suitable for almost every mobile device. Simple and effective, you only have to worry about managing a single site, and our smart mobile technology automatically takes care of the rest. Now that's the way it should work, don't you agree?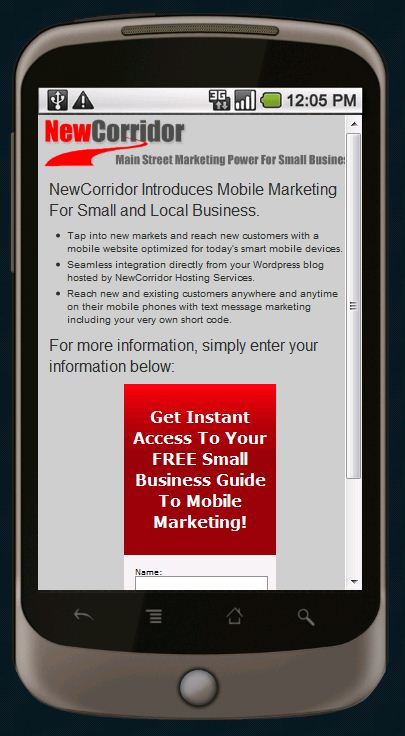 Another equally effective approach is to start with a smaller set of mobile-enabled landing pages for your website.
We can create dedicated landing pages designed to display perfectly on mobile phones and mobile smart devices.
For example, see the mobile landing page for our site to the left. If you want to take a look on your mobile device, you can navigate directly to this page at newcorridor.com/mlp/mobile .
These landing pages can include properly formatted and sized header graphics and banners, as well as opt-in forms for capturing names and email addresses.
Mobile landing pages that are optimized for easy access and proper display on mobile devices allow you to interact with your prospects and customers when they're on the go.
When you enable your mobile landing pages to capture names and email addresses, then you can send your prospects more detailed information later on when they are viewing your site from their laptop, iPad, or home computer.
So no excuses. With mobile enabled websites and mobile landing pages, now you can be sure that your website is easily accessible from full-sized desktop computers and displays, as well as the rapidly expanding population of mobile phones and mobile smart devices.
If you'd like to find out more, click on the following link to learn more about mobile enabled websites and mobile landing pages for your local or small business.