There's no shortage of new social networking website ideas that seem to spring up every day. Most never catch on. And some are worth paying some attention.
A little over a year ago, Foursquare sprang forth offering an interesting new twist on location-based social networking. Of course, whenever you hear "location-based", there's probably something beneficial for local business in the mix.
A year later, there are over one million users registered at Foursquare. Some of these users  may very likely be visiting a local business near you sometime soon.
Foursquare does present a marketing opportunity for local business. Location based social networking makes more sense for retail based establishments such as restaurants, coffee houses, day spas, hair salons, clothing stores, etc. And may not be as useful a marketing tool for service oriented local businesses such as house painters, plumbers and electricians.
So how does Foursquare work?
You download the Foursquare application to your iPhone.The application will discover your list of friends from your address book, Facebook and Twitter accounts. When your friends also use Foursquare, you can track where they are hanging out. Users that don't have an iPhone can interact with Foursquare through SMS text services.
When you check in at one of the thousands of places that Foursquare lists based on your GPS location, you let your friends know where you are. You can leave tips, suggestions and recommendations about places you like.
If the location you're visiting isn't listed on Foursquare, you can add the place or business.
Users that check in to a particular business location more often than anyone else can accumulate points and become the mayor of that establishment. If that business participates, the mayor can earn rewards in the form of coupons and specials from the business.
Here's a Foursquare video that explains things how the service works …
Foursquare presents users with a game strategy that may result in additional business for local establishments. At least that's the objective. A little friendly competition motivates users to accumulate more points by visiting and checking in more often from places they enjoy. The user that checks in the most from a particular business location can become a mayor for that establishment, and as the mayor, is entitled to special incentives and coupons if the business participates.
Businesses can also elect to offer certain specials to any Foursquare users (not just the mayor) if they choose. This can provide additional incentive for Foursquare users to visit an establishment.
An effective game model can be tricky, but when they work, the participation can become viral. At over a million users, Foursquare is beginning to catch on.
Foursquare recently added a dashboard that allows the local businesses to claim their venue and post Mayor Specials, Check-n Specials, Frequency-based Specials and Wildcard Specials.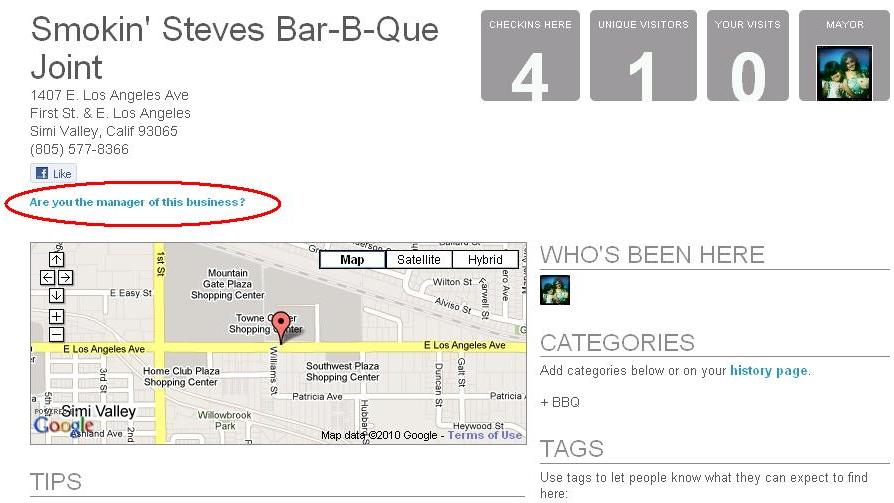 To claim a venue, a local business can click on the "Are you the manager of this business?". Looks like Smokin' Steve ought to claim his business on Foursquare …
You might be surprised at the variety and diversity of retail businesses that users will promote on Foursquare. It's not just restaurants and eateries. For example, a user leaves a tip for Power Motorworks BMW in Monterey Park.
At the present, Foursquare is yet another opportunity for local business to grab some free advertising. In an effort to increase local business participation, Foursquare isn't charging any fees for businesses to promote their mayor and check-in specials.
The question people are asking is whether businesses would pay to advertise on Foursquare. It's too early to quantify Foursquare marketing results for local business. Many local businesses may be hesitant to invest without a more verifiable marketing ROI.
And according to a recent survey, only 10% of businesses would pay to advertise and market on Foursquare. The survey turned up some interesting local business profiles. More than 90% of the local business respondents are also on Facebook and almost 90% use Twitter. It makes sense that local businesses already aware of social marketing opportunities would also be looking into Foursquare.
If you're a local business, think about claiming your venue on Foursquare. And don't be surprised one of your customers comes up and asks whether you've thought about offering a "mayor special".