There's a quiet marketing revolution underway and many small and local businesses are not even aware that the ground they've built their businesses on is shifting right under their feet.
I'm talking about local search and the way that more consumers everyday are moving away from traditional resources like the YellowPages and newspaper advertising, and leaning on the Internet to find local businesses.
For those of you not familiar with local search, it simply means you use a location qualifier in your search phrase when you use the search engines to find or locate something of interest, usually a local business.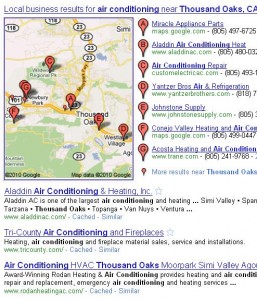 For example, if you wanted to find someone to service your home air conditioning and you live in Thousand Oaks, you might use the search phrase "air conditioning thousand oaks".
Using a zip code such as "air conditioning 91358″ will work just as well.
The Google map to the left displays the location of several air conditioning businesses in Thousand Oaks as a result of using the search phrase "air conditioning thousand oaks" from the Google search engine.
In a recent study, Google reported that 54% of Internet users have stopped using the YellowPages in favor of using the Internet to find local businesses online for their shopping needs. Here's the really interesting part. Consumers aren't necessarily looking to purchase everything online. They're simply trying locate brick and mortar businesses nearby. They use the Internet to track down local businesses, do a little research, and then visit a selected business in person to make the purchase.
The Kelsey Group and Constat Inc performed a study over 5 years ago that indicated more than 70% of U.S. households use the Internet as an information source when shopping locally for products and services. That was five years ago. I'm sure you'll agree that percentage is even higher today!
That same study forecast that the Internet would surpass newspapers as a local shopping information resource. Sad but true, this comes as no surprise today that newspapers are withering away. I know I cancelled my daily newspaper subscription years ago. Honestly, I simply got tired of throwing out piles of unread newspaper every month.
By the way, the Kelsey group provides strategic research, analysis and advisory services for and about the YellowPages and local media. They've since included electronic directories in their research and advisory scope, most likely to insure that their business doesn't die a slow death along with the YellowPages.
The NPD group, a leading provider of consumer and retail market research information, indicates that 97% of Internet users in the U.S. gather shopping information online, and of those consumers, 51% explicitly characterize their behavior as "shop online, purchase offline".
A three year old study, performed by comScore Networks and commissioned by TMP Directional marketing, found that local search grew 24 percent in 2007 while general search on Google, Yahoo and MSN (now Bing) grew at only 14 percent. Even more compelling, the study found that 82 percent of people using local search follow up their research with offline action, including in-store visits, phone calls, e-mails and purchases. And 61 percent of those using local search eventually made purchases.
More than ever, consumers are doing their homework online before they come into your store to purchase. With this fact in mind, is your website positioned properly to assist your customer's buying habits? Can your prospects even find you online when they perform these local searches?
It's quite clear, the online marketing revolution is dramatically changin the way small and local business reaches it's customers. Today, local businesses that are not taking the appropriate marketing measures to align with the buying and purchasing habits of everyday consumers will simply fall behind.
In the offline world it's all about location. We all know that a local business in the middle of a busy shopping district, on a well trafficked street, can thrive. And if you're located off the beaten track, business can get pretty slow. It's no different online. You're location online will make all the difference. If your prospects and customers can't find you online, you're not even in the game.
So, what's the prime location online? That would be on the first page of Google. The truth is, 98% people using the search engines to find local businesses never make it to the second page search results. For local business, the place to be is on page one!
To be fair, Yahoo and Bing provide important search real estate as well. But Google continues to dominate the lion share of search traffic with 64.9% of the U.S. search market followed by Yahoo with 18.% and Bing with 9.4%.
At NewCorridor, using breakthrough local search marketing strategies, we enable our clients to dominate page one of Google. Through a combination of cutting edge video marketing and social media marketing techniques, we help local business establish prime "page-one" online real estate location.
When we speak about dominating first page results on Google, we're not talking about a single page one listing. And we're most definitely not talking about  buying a page one add using Google ads and PPC (pay per click) advertising. Domination means multiple first page listings including local business results and organic natural search results. We're often able to achieve over 50% page one saturation for targeted search terms. And in some cases, we literally take over page one for our clients. That means every link and reference on page one for one of your targeted search phrases points to your business.
What would a steady stream of targeted leads coming off of Google page one search results mean for your business?
If you operate a local business and you're ready to get serious about establishing your prime "page one" real estate location online, then head over to our contact form and let us know. Let's talk about what we can do for your business.