Google rolled out the latest "Service Areas" feature along with the recent rebranding of "Local Business Center" to "Google Places" on April 20th, 2010.
A long awaited local business listing capability, business owners now have the option to display a service area rather than a discreet business address. A service area is ideal for home-based businesses that would prefer not to display the home address, as well as local businesses that service multiple areas, towns, cities, and regions from one physical location.
Service oriented businesses such as plumbers, painters, electricians, and so forth, tend to travel to the customer's location and service a broader area adjacent to, or surrounding their actual business location. For these types of businesses, customers seldom visit the business location. Rather, they're much more interested in finding a business that services the customer's location.
For a retail establishment where the customer typically visits the business location such as a restaurant, nail salon, furniture store, etc., the method of listing the business address as the business location makes the most sense.
Up until now, businesses  that tried to target multiple cities or areas, might try resorting to obtaining separate addresses and phone numbers in each of the different locations, typically by employing post office boxes. However, Google tends to frown on this practice of multiple listings using PO boxes in other cities to expand coverage and may actually penalize businesses following this strategy with a lower ranking. The "service areas" feature now provides a solution to cover this need.

As shown above, when you setup a local business listing, you have a choice of "customers come to the business location" which displays the normal business address and location information you're familiar with today. And the new "this business serves the customers at their locations" which enables you to setup an area on the map that your business serves.
If you select the "Yes, this business serves customers at their locations" option, you're presented with a few more options.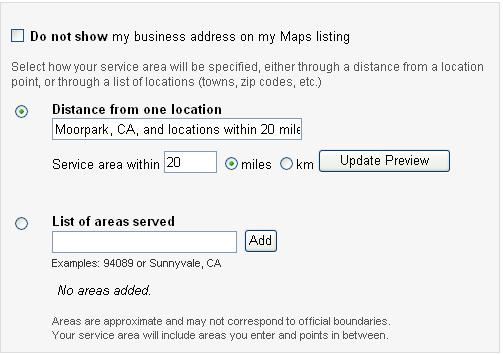 As shown above, you can select a "distance from one location" which will display a circular shaded area corresponding to the radius in miles/km that you provide, as follows: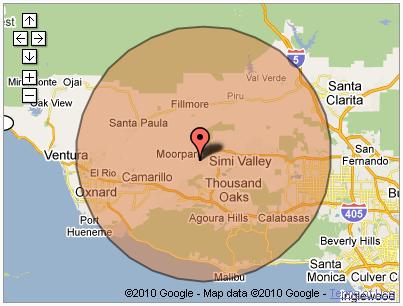 If you prefer not to list your business address, you can check the "Do not show my business address on my Maps listing" option.
You can also provide a "list of areas served", either by city/town name or zip code as shown below.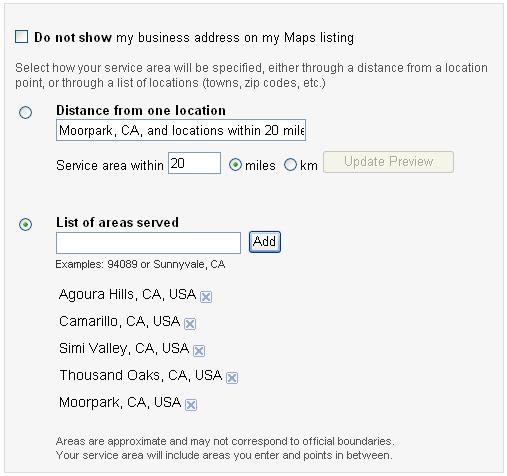 … which will display an approximate shaded area of combined regions on the map as follows.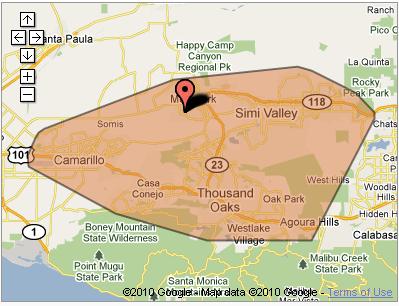 This new "service area" feature will appeal to many local businesses that have been looking for a way to solve this multiple area listing dilemma for some time.
But the big question remains, how will a business listing's rankings be influenced by this new "service area" setting? For example, will a business located in Moorpark that also includes Thousand Oaks and Simi Valley in the service area list also show up for local search queries in all of the service area locations?
For example,
the business is located in Moorpark
all of the citations for the business reference the Moorpark address location
the listing includes Moorpark, Thousand Oaks, Camarillo, Agoura Hills  and Simi Valley in the service area
the business ranks for the search term "video marketing" (yep, sounds like NewCorridor)
Will the business listing show up for a Simi Valley local search query, in this case "video marketing simi valley"?
It's far too early to know the answer. We plan on testing whether this works as expected with new clients that are willing to give it a try. For existing clients, we're very hesitant to fool with their established local business listings that are already ranking well.
We'll be keeping an eye on the service area feature and report back with more definitive findings as we have an opportunity to do some further testing.