The Google Maps service provides a useful service for pedestrians and people traveling on foot. With Google Maps, when you choose the "get directions" link, you're given an option to select a route that is more suitable for traveling by car, public transit, walking, or bicycle.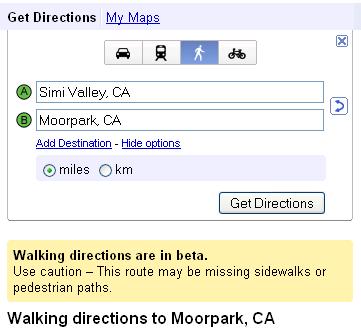 When you select the pedestrian icon as shown to the left, Google will make a best attempt to recommend a route more suitable for someone traveling by foot.
The route suggestion might include designated walking paths. With attempts to avoid barriers or routes where pedestrians can't travel such a traffic tunnels that prohibit pedestrian foot traffic.
The Google walking direction feature has been available for about two years, but notice that Google warns that the "walking directions are in beta". And to use caution, a route may be missing sidewalks or pedestrian paths.
As you might imagine, the recommended walking directions might not always be perfect. And I'm certain that the mapping database cannot incorporate every available walking path and trail available to pedestrians throughout the world.
As you might also expect, sooner or later someone is going to run into a problem using this feature and is going to sue Google for damages as a result of some less than 100% perfect outcome.
Recently, a women walking in Park City, Utah was hit by a car after following walking directions recommended by Google Maps. And as a result, she's suing Google and the driver of the car. See this article for more details.
Nobody wishes anyone any harm, and there certainly can be legitimate product safety claims where a lawsuit provides an appropriate recourse for inflicted damages or injury.
But sometimes you have to scratch your head and wonder what has happened to the simple notion of common sense in this country. Admittedly, we've all become a little too dependent on our GPS navigation systems. How did we ever find our way before the convenience of our trusty Garmin, Magellan or Tom Tom?
And most of us have also experienced some of the twisted navigation directions offered up by the search engines. Usually, and fortunately, to our amusement. I think most reasonable people realize that technology is a convenience often designed to make our lives easier, but not perfect by any means.
Yet, somehow we've become a society that expects absolute perfection in every product or service that we consume. Now, don't get me wrong. I'm all for customer satisfaction and pleasing the customer. But 100% perfection all of the time is unattainable. There are reasonable limits in life, and hopefully, while all of us strive to do our very best, we land on an acceptable level of performance that may just fall a bit short of perfection. I'd like to suggest this is just good common sense.
But I'd probably be negligent if I didn't offer you a word of caution. If you choose to use Google Maps for some walking directions, please do be careful. If Google sends you down the wrong path and recommends that you walk off the edge of a cliff, exercise some common sense if possible. Even though many of us think Google provides some pretty great technology, you don't actually have to follow the walking directions. As an option, consider turning around and think about trying another route.
OK, enough of my sarcasm ….
I like to bring these local search innovations and developments to the attention of my small and local business clients. These are innovative features designed by Google to enhance the usefulness of the mapping and direction services. And small and local business should pay attention to the ever expanding features and capabilities of Google Maps.
There's a tremendous marketing opportunity for small and local business to leverage local search which encompasses the mapping functions on all of the major search engines. As consumers find new and beneficial convenience with innovative features like walking and biking directions, your next prospects' focus and attention will increasingly be trained on these views and displays. Especially the mobile devices.
And as a small business owner, this is precisely where you want your marketing message to show up!