Local businesses recognize the need to achieve high visibility on the major search engines, Google, Yahoo and Bing. Local search enables consumers looking for local businesses and services nearby to add a geographic location to their search phrase.
Geographic location can include city and neighborhood names as well as zip code information, for example, "best dentist simi valley", or "best dentist 93065″. With local search becoming the preferred method for consumers looking for nearby businesses, it's critical that local business pay attention and incorporate local search into their marketing strategy.
However, as small and local business owners are discovering, even local search marketing can be very competitive. And it can be elusive and frustrating to achieve a prominent first page local search ranking on Google.
When Google returns a "Local Business" result, the display block typically consists of a list of 7 or fewer local businesses that satisfy or match the search criteria and location. The goal for a local business is to rank within this top list of 7 for specific search terms that include a location qualifier.
Again, as an example, while the entire search phrase might be "best dentist simi valley", consider the keyword term "best dentist" as the subject and category context of the search term, and the "simi valley" as the location component.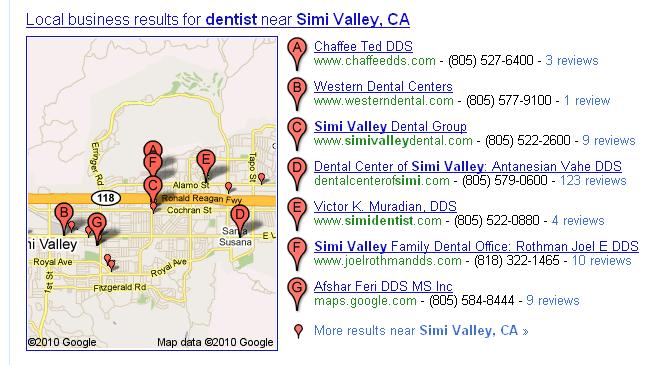 For the local search query "best dentist simi valley", Google displays the following Local Business block with a list of seven dentists in Simi Valley.
And, of course, the challenge for local businesses is to figure out how to show up within this  top 7 local search listing.
For some small businesses, achieving prominent local search visibility on Google may seem like just dumb  luck. Without much effort or special attention, they just seem to wind up with a "top 7″ ranking.
But for most small and local businesses that are deliberating taking proactive measures to improve their "local search" ranking on Google, the effort can be a frustrating one.
While Google doesn't publish details about their ranking algorithms, here are a few reasonably well understood variables that influence a prominent Google local search ranking.
As always, relevance is key with Google. For local search, relevance takes on a slightly different meaning than for normal web-based search results. When Google returns website results for a search query, relevance is focused around the authority and trust that Google attributes to a particular website as meeting the search query intent. In other words, if someone is searching for "alternative energy developments", Google is going to match and return the most relevant and authoritative websites that contain or publish information about alternative energy.
And the effort performed by website publishers to achieve high scores for relevance, authority and trust with Google fall under the elusive and complex practice of SEO – Search Engine Optimization.
For a local business, however, relevance for Google means something slightly different. With local search, the focus for trust shifts from a website to an actual business. Trust means your business really exists, and your business really does what the listing says you do.
Seems obvious, right? But how exactly do you improve Google's measure of trust with regard to your local business?
First, be sure to claim you business listing with Google. If you create the initial local business listing, then you're the owner of the listing. However, in the absence of an owner created local business listing, Google will also pull default listing information for your business from various online local business directories such as YellowPages online.
Listings that are derived from other 3rd party local business directories are more anonymous from Google's point of view, than a listing that a business owner has taken the time to create or claim. Google has a higher trust level for a business listing that has been verified by the business owner.
Second, it helps your local business's ability to rank on Google if there are sufficient multiple references from other trusted online locations. These references don't necessarily have to be links back to your business website. Referred to as citations, a reference can simply be a listing of your business name, address and phone number from an established local business directory such as YellowPages.com or from other trusted business websites in your local area.
It's also important that citations that reference your business are consistent with the same information … business name, address and phone number. One of the mistakes that we help our local business clients fix and repair is cleaning up inconsistent citation information. For example, one citation might list the business name as "Jim's Lumber Supply" and another citation might show up as "Jim's Lumber". It's important that your local business is referenced accurately and consistently online. More important, a lack of business listing information consistency creates ambiguity and can actually harm your local search ranking ability.
Also consider that local search is no different than standard search with regard to competition. If you're searching online in a highly competitive market segment, the competitive characteristic can be determined by the number of web pages that the search engine returns for a search query.

For example, a search for "insurance quotes" on Google returns 52 million different website listings. To rank with a page one listing for the search term "insurance quotes" means you have to beat 51,999,990 other web sites with more trust, authority and relevance.
This is one of the reasons why SEO services can be so expensive. SEO is difficult and complex, and can be extremely competitive.

On the other hand, a local search for "insurance quotes simi valley" narrows down the competitive playing field to 112,000 web page results. Now you only have to beat 111,990 other web sites to achieve a page one listing within a more confined local search context.
This is certainly more achievable than the broad search for the non-geographic "insurance quotes" query.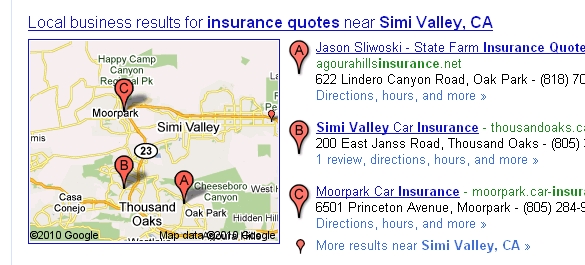 And for the same local search query "insurance quotes simi valley", the local business results only return 3 local businesses in the listing.
And only one of the listings is in Simi Valley. The other two are in Agoura Hills and Moorpark.
This simply demonstrates that there's a real local search opportunity for local insurance businesses in Simi Valley to do a better job of ranking for "insurance quotes", one of the most competitive broad market search terms online.
That's the power and opportunity for local search. If you're a small or local business struggling to achieve better local search visibility and ranking prominence, you might want to consider working with a local search expert. It can be more complicated than many small businesses realize.
At NewCorridor, we specialize in local search marketing. We're able to achieve high search engine visibility for our small business clients. Contact us to schedule an appointment and we'll be happy to provide a FREE 1/2 consultation to discuss how our Main Street Marketing Power strategy can help your local business grab high visibility prominence in the search engines. And this means more leads and more new business for your business!